Quick and Easy Meals in Under 30 Minutes: Your Ultimate Recipe Guide
===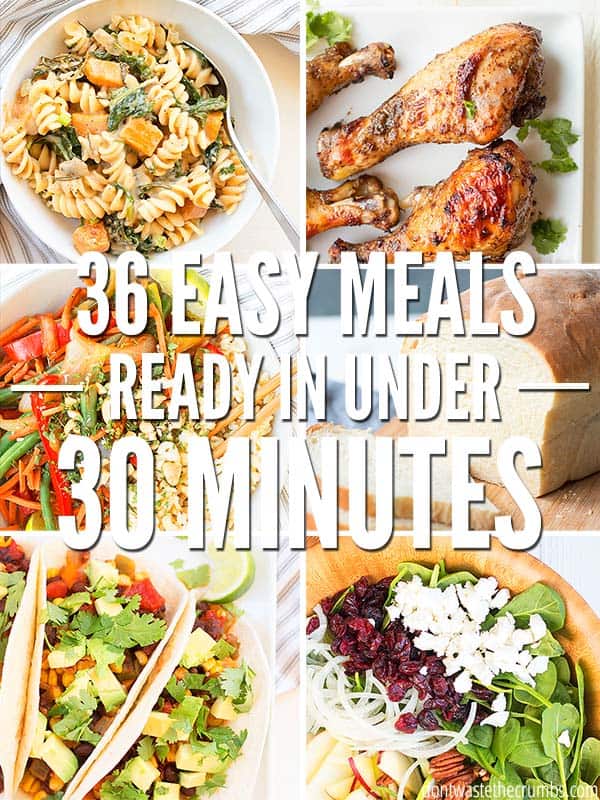 Are you tired of spending hours in the kitchen preparing elaborate meals? Do you crave delicious food but lack the time to make it? Fear not! We have the ultimate recipe guide for you – quick and easy meals that can be whipped up in under 30 minutes. With our handy tips and mouthwatering recipes, you'll be able to savor scrumptious dishes without any hassle. So, put on your apron, grab your whisk, and get ready to cook up a storm in no time!
Whisk your way to a tasty delight!
Zesty Lemon Chicken: Marinate chicken breasts in a mixture of lemon juice, garlic, and herbs for 10 minutes. Sauté the chicken in a skillet until golden brown and cooked through. Serve with a side of steamed vegetables for a healthy and flavorful meal.

Creamy Pasta Carbonara: Cook spaghetti according to the package instructions. In a separate pan, fry bacon until crispy. Whisk together eggs, parmesan cheese, and black pepper. Drain the pasta and toss it in the egg mixture. Add the bacon and mix well. Voila! A lip-smacking pasta dish ready in minutes.

Spicy Shrimp Stir-Fry: Heat oil in a wok and add shrimp, garlic, and chili flakes. Stir-fry for a couple of minutes until the shrimp turns pink. Throw in your favorite vegetables like bell peppers and broccoli. Season with soy sauce and a squeeze of lime juice. Serve over a bed of steamed rice for a quick and fiery Asian-inspired meal.

Caprese Salad: Slice fresh tomatoes and mozzarella cheese. Arrange them on a plate with basil leaves. Drizzle with olive oil, balsamic glaze, and a sprinkle of salt and pepper. It's a refreshing and delightful salad that comes together in no time.

Quick Veggie Quesadillas: Spread a layer of refried beans on a tortilla. Top with your favorite veggies, such as bell peppers, onions, and mushrooms. Sprinkle shredded cheese and fold the tortilla in half. Cook on both sides in a skillet until the cheese is melty and the tortilla is crispy. Cut into wedges and serve with salsa and sour cream.
Savor the scrumptiousness in no time!
Mouthwatering Margherita Pizza: Preheat the oven and roll out store-bought pizza dough. Top it with tomato sauce, fresh mozzarella cheese, and basil leaves. Bake until the cheese is bubbly and the crust is golden brown. Say goodbye to delivery and enjoy your homemade pizza in under 30 minutes.

Teriyaki Beef Stir-Fry: Thinly slice beef and marinate in teriyaki sauce for 15 minutes. Heat oil in a pan and stir-fry beef until browned. Add sliced bell peppers and stir-fry for a few more minutes. Serve over rice or noodles for a quick and satisfying Asian-inspired dish.

Crispy Chicken Tacos: Coat chicken tenders in a mixture of flour, spices, and crushed cornflakes. Fry until golden and crispy. Warm up tortillas and fill them with the crispy chicken, shredded lettuce, diced tomatoes, and a dollop of sour cream. Taco night has never been so easy!

Mediterranean Couscous Salad: Cook couscous according to package instructions. Toss it with cherry tomatoes, cucumber, feta cheese, olives, and a simple dressing made with olive oil, lemon juice, and herbs. This refreshing salad is bursting with Mediterranean flavors and is ready in a jiffy.

Honey-Glazed Salmon: Season salmon fillets with salt and pepper. In a small bowl, whisk together honey, soy sauce, and minced garlic. Brush the mixture over the salmon and broil for 10 minutes. Serve with steamed vegetables or a side salad for a healthy and delicious meal.
Feed your hunger with a dash of speed!
Cheesy Broccoli Soup: In a pot, sauté onions and garlic until fragrant. Add chopped broccoli and chicken or vegetable broth. Bring to a boil and simmer until the broccoli is tender. Blend the soup until smooth, then stir in shredded cheddar cheese. A comforting bowl of creamy soup is just moments away.

Thai Basil Chicken: Sauté chicken breast strips with garlic and Thai basil leaves. Add a splash of fish sauce, soy sauce, and a pinch of sugar for an authentic Thai flavor. Serve over jasmine rice for a quick and tasty weeknight dinner.

Mushroom and Spinach Omelette: Beat eggs with a splash of milk and a pinch of salt. In a skillet, sauté sliced mushrooms until golden. Add baby spinach and cook until wilted. Pour the egg mixture over the veggies and cook until set. Fold the omelette in half and enjoy a nutritious breakfast or lunch option.

Quick and Easy Chili: In a large pot, brown ground beef with onions and garlic. Add canned diced tomatoes, kidney beans, chili powder, and cumin. Simmer for 20 minutes and serve with a sprinkle of shredded cheese and a dollop of sour cream. This hearty chili will warm you up on a chilly evening.

Lemon Garlic Shrimp Pasta: Cook your favorite pasta until al dente. While the pasta is cooking, sauté shrimp with minced garlic in a pan until pink. Drain the pasta and toss it with olive oil, lemon zest, lemon juice, and the cooked shrimp. Garnish with freshly chopped parsley for a delightful and light pasta dish.
===
These quick recipes are perfect if youre looking for a healthy lastminute meal idea From easy stir fry recipes like this 20minute veggie lo mein to quick chicken breast recipes like my spicy vodka chicken parmesan I have plenty of weeknight dinner recipes that you can have on the table ASAP18 Fancy Dinners Ready in 30 Minutes Explore 30Minute Meals Homemade Pasta Roni 3 Ratings Quick and Easy Pancit 492 Ratings To Die For Fettuccine Alfredo 2266 Ratings Quick Beef StirFry 414 Ratings Pesto Pasta 224 Ratings Spicy Thai Basil Chicken Pad Krapow Gai 1151 Ratings Chicken Katsu 879 Ratings Simple Beef Stroganoff 977 RatingsMike Garten Add butternut squash carrots and aromatics to an air fryer and watch dinner happen in minutes Sprinkle the finished product with a garlicky pepita topping for
craveable crunch Get Under 30Minute Meals Some days we just don39t have the time to plan and prep a whole meal For those days you can fall back on our flavorful Shrimp Scampi Linguine or easyyetfilling Baked Salmon Want to eat something fancy yet quick Try the 30minute Chicken Pho or Dulce De Leche Lava Cake Don39t sacrifice flavor just because you don39t 75 Slides Will Dickey Uh oh what39s for dinner Don39t worry Of all the easy dinner recipes 30minute meals are practically engrained in Ree Drummond39s arsenal of recipes She39s been whipping up these quick family meals for yearsThe 100 Best 30Minute Dinner Ideas Theres no denying that getting a familyfriendly dinner on the table can be tricky at the best of times let alone on busy weeknightsYes you can make stuffed chicken breasts in 30
minutes Though these recipes sound complicated this spinach and artichoke stuffed chicken is surprisingly quick The chicken breasts are flattened then cut open and filled with a delicious combination of baby spinach artichoke hearts and mascarponeWith these quick food recipes you can get our highestrated mostrequested 30minute meals ready in a snapperfect for a busy weeknight 1 100 Flavorful Chicken Fajitas This flavorful recipe is definitely on my weeknight dinner rotation The chicken fajita marinade in these popular wraps is mouthwatering
With these quick and easy meals, you can now cook up a storm in just half an hour! Gone are the days of spending hours in the kitchen and settling for boring takeaway options. Whisk your way to a tasty delight, savor the scrumptiousness in no time, and feed your hunger with a dash of speed. These recipes will not only save you time but also leave you satisfied and eager to explore new flavors. So, put on your apron and get ready to enjoy delicious homemade meals, hassle-free!